1933, 1945, 1957, 1969, 1981, 1993, 2005, 2017

Born under the sign of sincerity, he is by nature very honest.
Very bright as he is, he sometimes is a really deep thinker.
Vivid and with an excellent memory, he can interest people, even though a personal touch often misses.
Above the little everyday things of life, he likes it all too good, and loves nightlife and entertainment, and can act very overweeningly, lah-di-dah.
His personality makes him interesting for important people this way. Generous and able to close friendships as well.
With effort he can accomplish something, but for this he has to restrain his moody character.
Sure of himself, he is nevertheless worried and uneasy.
If something fails, he worries so much over details that he completely misses the overview.
If he is born in spring he is less bombastic.
The Rooster woman loves a delicious meal, is hard to get to know, but is fond of gossip.
She lacks initiative.


Compatible signs: Ox, Snake and Dragon.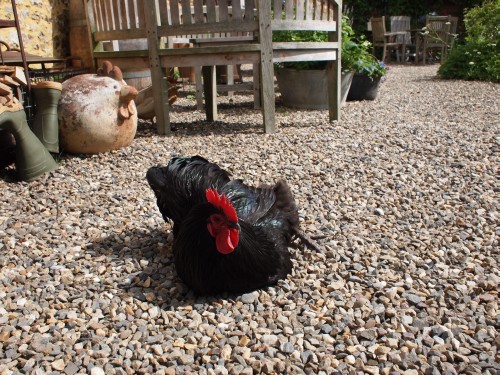 Rooster, caught taking a sunbath - Belgium 2010
photo Juanita van den Bos